About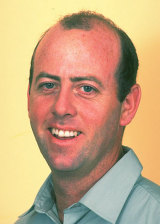 Former Middlesex fast bowler Simon Hughes, aka the Analyst, will give you daily insights into the world of cricket on this site. Also read here his regular columns in the Daily Telegraph, videos and podcasts, and sample extracts from his six books.
Simon Hughes was a fast bowler for Middlesex 1980-91 winning 10 titles including four county championships with the county. He then moved to play the first two years for Durham when they were inaugurated as the 18th county.
He retired in 1993 to concentrate on a writing career which began as a player for The Independent with the widely acclaimed Cricketer's Diary. In 1994 he joined the Daily Telegraph as a columnist and became the BBC's roving reporter on test matches.
In 1997 he won the William Hill Sports Book of the Year with A Lot of Hard Yakka – chronicling the triumph and turmoil of a cricketer's life. And in 1999 he began a groundbreaking stint as The Analyst on Channel 4's award-winning cricket coverage, winning the Royal Television Society's Sports pundit of the Year award in 2002. Channel 4s cricket coverage won 28 awards in its 7 year span, including six Baftas.
He remains The Analyst on Channel 5's evening highlights programme, commentates on BBC radio, writes for the Daily Telegraph, and will feature on ITVs coverage of the IPL. He has written five books other than A Lot of Hard Yakka, From Minor to Major (1992), Yakking Around the World (2000), Jargonbusting – The Analyst's Guide to Test Cricket (2002), Morning Everyone (2005), And God Created Cricket (2009) which is now out in paperback. The Cricket Analyst mobile app is available now on the iPhone and Android App Store's.
Copyright 2022 The Cricket Analyst – Simon Hughes. All Rights Reserved.